How to Monitor Kids Text Messages? Why Is It Necessary?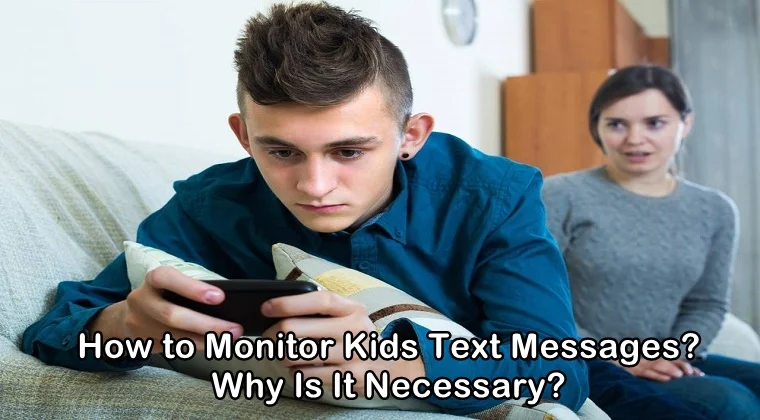 Parenting is a tough task, especially with this ever-changing technology and media. You never get to know what is going on in your kids' life because seeing them every day isn't just enough. You don't know what they are doing on their smartphones, who they are texting, and with whom are they sharing their stuff. Moreover, they are so secretive that you seldom get to know about their feelings but a stranger might know everything.
According to the latest texting statistics, it is estimated that 91% of teens worldwide are actively texting every day. This approach can differ from one home to another depending on the environment being provided. When you have given them mobile phones, be ready to be surprised at every stage. They are ready to explore the new world they enter. But, they might face threats and dangers that's why it is deemed important for parents to know how to monitor kids text messages.
Teens and Texting
Depending upon the maturity and age of a teenager, parents have different purposes to hand them the phones. Sometimes it is all about allowing them to give them a call whenever necessary, sometimes it is about knowing where they are and being able to contact them all the time. Anyway, no matter what the purpose is, they are free to use it however they like.
Several messaging apps are out there to facilitate the users to chat the way they like. WhatsApp, Viber, Snapchat, Facebook messengers, etc. allow you to send pictures and videos and even chat live with other people. You might know these things already, but have you thought about it from a kid? They are new to this and are excited about such new features.
These are some of the threats and hazards related to texting that every parent should be worried about:
·Sexting
Young kids falling in relationships often do stupid things – sexting is one of them. To impress their partners, they can do anything they ask for which includes sharing nude photos and sexual texts. Later on, when they are not together, the other person can use this content to humiliate or blackmail for revenge. Moreover, they must know that whatever they share on the internet stays there and haunts them in the future. Since they are innocent, they might not know these facts.
Here are some of the facts and statistics about sexting that concerns parents:
·Bullying
When you want to tease someone purposefully, you would do everything in your power to do so. Bullies are this much impulsive that they often want to ruin the other person's life. So, why won't they grab this golden opportunity when they know their victim has a phone and he can be humiliated in more than one way.
Threatening texts and name-calling is one of the most common practices when it is about bullying through texting. Also, these bullies can come in the form of friends and encourage the kids to share information and pictures that are personal to them, only to use it against them.
·Predators
Predators are in search of innocent victims that are mostly kids. They attract them with their so-called nice personality and communication, get them to trust them, and share personal information. These predators often extract personal information like a home address and contact information and have some bigger agenda.
Now, your kid might not know what a sweet stranger wants from them. They are kids and they fall for anyone who pretends like he understands them and gets them to share their feelings and stuff. Kids can seldom realize that a stranger extracting personal information from them wants to haunt them.
·Addiction
Believe it or not, sticking to their phones makes them lose their interest in any activity that mattered to them before. They want to use mobile phones when they are eating, during family time, when they are expected to sleep, and when they are expected to listen to their parents. This texting makes them addict and they seem to not be able to live without it.
You can even test it by unplugging the WIFI or taking away their phones for a day, they will become aggressive and all irrational about this. This is when you need to realize that there is a dire need to keep an eye on them and know what they are up to.
How to Monitor Kids Text?
Well, it is a tough time for parents because kids are already so much secretive and insecure regarding their privacy. They don't want to be suffocated by you neither do they know that they need guidance and help regarding their use of smartphones. In this scenario, there are still some things that can be done by the parents.
· Communication
Communication is the key to a sensible understanding. The moment you handed them the phones, it is wise to sit with them and show them the correct use. You can guide them about what to share and what not to use the phone in a safe zone. Also, show them the dangers out there and how they can be saved. Encourage them that they always share with you whenever something wrong happens.
· Parental Control Apps
Using parental control apps is the necessity of the time. Using a good app will let you monitor your kids' phones properly and wisely. You will know with whom are they connecting, and what are they talking about. This will give you a heads up about your kids' activities over the phone.
SecureTeen is one of the best parental control apps that let you monitor their phones easily. You can track their location, monitor their messages, and call logs, manage their screen time, know what they have been doing on their social media accounts, etc. With so many features, you can easily manage to know if your kids are in danger, and you can guide them at the right time.
---