How to Monitor Kids Snapchat? Get Help from Parental Control App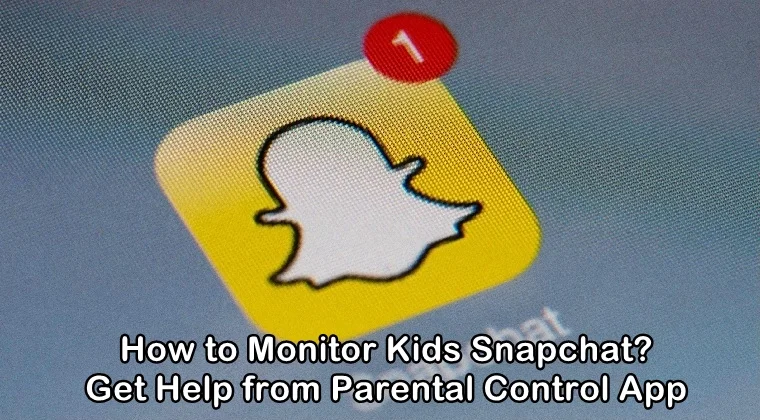 If you have tweens or teens, you might be aware of Snapchat already. And, if you are unable to figure out what is going on there, you are one of the many parents out there. But not to worry, it is not difficult to know about the social media app that your kid frequently uses. It is necessary for you to understand the meaning of such apps to keep an eye on your kids. So, let's learn how to monitor kids Snapchat.
Here is a review of the app for parents like us: https://www.commonsensemedia.org/app-reviews/snapchat
Snapchat is like other popular social media apps that give your kids a platform to share their everyday stories and moments. It has this unique feature of messages and snaps that disappear after a while. It does offer more than that like entertainment, quizzes, games, photo-video editing tools, etc. It has so much that often grown-ups find it difficult to comprehend it, and that's another reason why kids love it.
How Does Snapchat Work?
You just have to sign up there with a valid email address. There, you can upload your contacts and find out the people who are already using it. On Snapchat, communications are usually started with photos rather than messages. There, you will see all sorts of photo-editing tools to enhance the quality of your photo along with adorning it. Once the snap is customized, it is time to upload it in the story. Now, the snaps that you post in the story are there for your friends to see within 24 hours.
Snapchat also offers groups texting and stories to have a connection with the whole group. There are groups where every member can contribute and comment.
How Old Does Your Kid Need to Be to Use Snapchat?
According to their terms and services, children under 13 cannot sign up for Snapchat. There is a requirement to enter your date of birth at the time of sign up, however, there is no process of age verification so it is easy for the kids under 13 to sign up easily. Commonly, Snapchat is fine for teens who are 16 and up because of the age-inappropriate content.
Do Snaps and Messages Disappear On Snapchat?
Well, it depends. As per Snapchat policy, the snaps and messages are meant to be disappeared after they are viewed. The recipients can take a screenshot of the image or the text using a third-party screen capturing app. However, the sender will be notified that a screenshot has been taken only if it is done by the phone. If some third-party apps are being used to capture a screenshot, there will be no notifications.
So, kids sometimes share inappropriate pictures and messages for fun and enjoyment. Little do they know that there are people who can capture screenshots of those snaps and use them for the wrong purpose. This is where cyberbullying and harassment can start.
Why Snapchat Is Not Safe for Your Kids?
If the kids are just using Snapchat to goof around and stay in contact with their friends, there is no big deal. But, there is some mature content on Snapchat that is not suitable for kids under 16.
First, there is a myth of messages being disappeared. At the very start, Snapchat was referred to as 'the sexting app' because people used to send inappropriate and intimate pictures to each other, assuming that photos will disappear. Any app can be misused, but somehow kids think that they can get out this app free.
Kids need to know that the information they are sharing on Snapchat can be saved, and shared further. It is best to tell them this before they even download the app. Tell them that if anyone asks them to share inappropriate stuff, why would they do that? Nobody with good intentions can make someone do this. Also, there are stalkers there who are in search of such photos and stuff to be captured and shared to bully kids.
Know more about it here: https://evolvetreatment.com/blog/snapchat-safe-teens/
How to Monitor Kids Snapchat?
The biggest challenge for parents is to figure out how to monitor their kids' Snapchat. Since there is not much to scroll and see, there is hardly anything that they can notice at first glimpse. However, they should consider focusing on their privacy settings before they start using it. Sit down with them, understand what the privacy settings are offering and how they can keep their kids protected.
On the way to their signing up process, it is wise to tell the pros and cons of the app. Teach about the correct and proper use of the settings. Also, show them how they can ignore strangers and what sort of people are alarming on such apps. This is the time that your kids need to know everything they can face there. They must understand the sensitivity of the platform.
However, for further monitoring, parental control apps can be used. Such apps allow you to monitor all their social media accounts including Snapchat. If they are using too much of it, you can also manage their screen time to make sure they are not getting addicted to it. The keylogger feature lets you know what they are typing and chatting about.
You can see what sort of snaps are they sharing and what sort of friends circle they have. This way you can foresee the danger that they can't and guide them accordingly. It is best to discuss with your kid first and show them some of the bad things that have happened with the kids who use such platforms without guidance.
Although the point of monitoring them is not to suffocate them but to give them freedom while keeping a keen eye on them. A decent conversation and a good environment will encourage them to share things with you and have you as their friend. They must trust you on the level where they come straight to you if anything wrong happens. Happy parenting!
---