How to Block Porn on My Phone? Here's the Complete Guide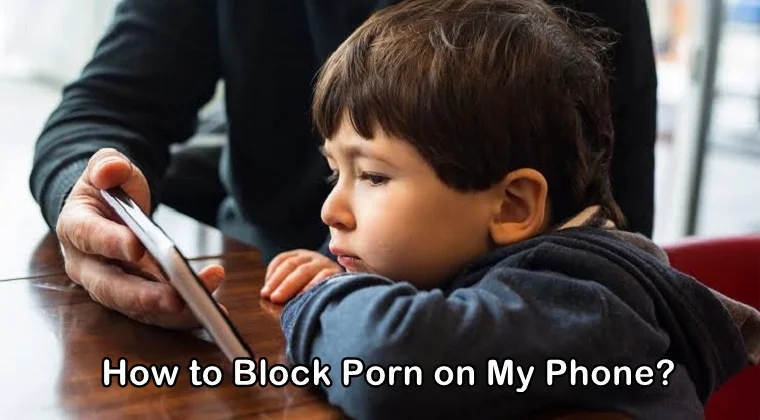 How to block porn on my phone? This is a relevant question in today's digital age. This question is often asked by parents on various online forums. Basically, they are trying to gather as much as information to block porn on their cell phones completely because they do not want their children to view porn.
Unfortunately, online pornography has become a huge part of digital life. It is everywhere on the internet. Dr. John DeGarmo, a leading expert in parenting and foster care explains in a blog on HuffPost about the dangerous rise of online child pornography.
He says that child pornography has become rampant in the online world, becoming a multi-billion-dollar online industry, with over 100,000 sites dedicated to the crime. It has become one of the fastest-growing online businesses.
There is a high chance that while your child is watching a video on YouTube or other online video streaming sites, a pop-up ad containing adult content will appear in front of his/her screen, making them overwhelmed.
While most children come across porn on the internet by accident, some of them are curious to find out what it is and they're likely to explore adult content on their own. So, they watch porn content to kill curiosity. It has been repeatedly said over by many psychologists and child specialists that exposure to porn at a young age can be harmful to a child's mental health and development.
The primary step every parent would take to ensure their child does not view adult content is that they would not hand over any digital device to them before the right age.
However, most parents do not realize that sometimes kids also can also open adult sites on their smartphones. Parents may have stored some adult content on their devices that they wouldn't want their kids to see. What they do forget while giving away their phones is that their children are at the risk of coming across the adult content.
So what would parents do to ensure their kids do not watch porn on their devices as well? To make things easier, we have listed down a method that helps you prevent your child from viewing porn on the internet.
How to Block Porn on My Phone?
The best approach parents can adopt to block porn on their phones is to use a parental control app like SecureTeen. This is known to be the best porn blocker for your kids. Often children and teens sneak into your mobile phones and dig out data that is extremely personal and sensitive for them to view.
Without making your child feel affronted, you can ensure they have a safe experience on the internet. Let's find out how the SecureTeen parental control app can help prevent your child from stumbling upon inappropriate on any device.
Discreet Monitoring
With SecureTeen, you are not only able to block and filter porn sites on your devices but also monitor their text messages, phone calls, apps, as well as real-time location.
SecureTeen allows you to carry out discreet monitoring of their activity. You can install the app on the device they are using and find out what they are doing on the internet.
Web Filtering Technology
SecureTeen lets you decide what sort of content would you want to allow your children to see on your mobile devices. By filtering and blocking porn sites, your child won't be able to see inappropriate content online.
You will always be updated about what your child is seeing on the internet and never remain in the dark about their online activity. This parental control app lets you manage and control what your child sees online.
Screen Time Management
SecureTeen allows you to set time limits on each application installed on your device, making your kids only use them at specified timings. By limiting their screen time, you can help your children focus on their other obligations such as studies, playtime, etc.
With screen time management, parents can set a time-based schedule for device usage, enabling children to focus on other important aspects of their lives such as homework, sports, school, and friends. A daily device usage quota can be set by parents and enable rules for homework time, mealtime, bedtime, etc.
How to Block Porn with SecureTeen
Porn sites can be easily blocked with the help of this parental control app. It can be installed and configured quickly without you having to wait more than just a few minutes.
Here's how to use SecureTeen to block porn on your device:
Step 1: First of all, you need to sign up for the SecureTeen service by choosing the pricing plan that suits you the most. Now, download and install the SecureTeen app on the target device.
Step 2: After signing up, you need to connect the SecureTeen app with the targeted device. If you want to block porn on an iOS device, then you need iTunes credentials of that device. On the other hand, you only need to install the SecureTeen child app on the target device if it's an Android or any other device. The installation is only going to take a few minutes.
Step 3: Once you are connected with the target device, you need to log into your SecureTeen dashboard to start filtering and blocking porn sites on that device. You can control, manage, and monitor all the device activities including phone calls, text messages, real-time location tracking, web browsing history, social media accounts, etc.
By installing a parental control app either on your child's device or yours, you can monitor your child's online activity 24x7. Constant monitoring of children's online activity ensures their complete safety on the internet and keeps them away from rising online threats.
Remember, pornography is a real online threat and can affect a child's mental health and well-being negatively. Therefore, restricting porn sites and inappropriate content on your device is compulsory for every parent.
Besides installing a parental control app on your device, you can also consider enabling default privacy settings on your web browser and device. This will add an extra layer of protection for your child on the internet and keep them far away from pornography and other cyber dangers.
For instance, you can enable Google SafeSearch feature on the Google Chrome browser to prevent your children from viewing inappropriate content on the web. The same feature needs to be turned on all the devices your child is using including their smartphone and desktop computer.
Last but not least, you must have a pornography talk with your child before he/she searches for the phenomenon on Google. Amy O'Leary has articulated how parents should have an early discussion about porn with their kids. To gain more insight, you can read the article published in NYTimes.
---