How to Block Porn on iPhone – A Complete Guide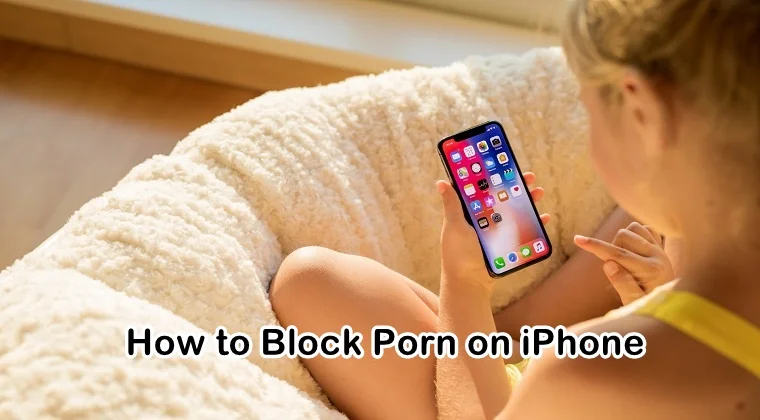 Pornography seems inseparable from our society now. Parents can warn their kids while watching TV or when their kids talk to them, but when the kids start watching porn secretly, that initiates a never-ending problem.
There is a dire need for blocking porn websites as it is making the kids addicted to it. Not only addiction, but kids are also developing the wrong perceptions about love and relationship. Porn is changing their sexual experiences all over. Moreover, it brings disappointment to them when their fantasies don't come true.
You might say that your kid is not exposed to this stuff yet. There is a 100% chance that even if they are searching for something else, there will be a pop-up on the screen advertising sexually implicit content. These advertisings on the internet make sure that no one stays clear of porn. However, some necessary steps can be taken to block such sites on your kids' iPhone.
There are plenty of apps available on the iOS store for this purpose. Also, there are some built-in restrictions on iPhone for blocking such websites. Let's dig into these procedures:
1. Google SafeSearch
You can enable Google SafeSearch that helps in filtering the search results in Google. It recognizes the websites showing explicit content like porn and blocks it. Here is how you do it:
Step 1: Set the default search engine "Google". Go into your iPhone's settings, scroll down and click on Safari. Choose the option of "Google" under the search engine menu.
Step 2: Activate SafeSearch: Download and install Google App in your kid's iPhone. Click on the gear icon, scroll down, and go to Search Settings. There, click on "Filter explicit results" under SafeSearch filters.
Step 3: Perform the same steps on all the iPhones of your kids and check regularly. Check the Google app option now and then to see if the SafeSearch is still on.
2. Screen Time
This feature has been introduced with iOS 12, and it offers device and content management features. It blocks Safari's access to adult-related websites. You can also add individual websites for restriction purposes. Here is how you can do it:
Step 1: Open the settings and tap on Screen Time. Enable it if it isn't enabled yet.
Step 2: Tap Continue
Step 3: If it is your child's device, click on "This Is My Child's iPhone", and if it is yours, click on "This is My iPhone".
Step 4: Now click on "Content & Privacy Restrictions".
Step 5: Now click on "Web content" and select "Limit Adult Websites".
Step 6: Now, check it. Whenever your child will try to reach for porn, an error will be shown.
3. Internet Service Provider
Some internet service providers offer services like control filters, parental control, or other screen-management features. Sometimes they cost a little bit to their customers. However, it works best for blocking porn.
For instance, Xfinity offers website blocking, device limits, and parental controls through its customer app and portal. Same way Verizon offers a Smart Family program that charges a monthly fee for parental control. Every company has designed their featured programs according to their capacity. You can choose the best one for yourself.
4. Parental Control Apps: SecureTeen
SecureTeen is the best third-party parental control app that you can use to restrict explicit content on your kids' iPhones. It is a parental control service for parents who want to monitor their children from ages 7-17. You can monitor and control all your kids' devices. You can monitor their messages, call logs, location, WhatsApp, Viber, web history, etc.
Its settings also enable you to block or allow certain websites. It also offers category-based block control. For instance, if you want to block social media, but want your child to have access to Facebook only, you can easily do that with SecureTeen.
Here is how you can block porn content from your child's iPhone using SecureTeen:
Step 1: Download and install the SecureTeen app on both your and your child's iPhone.
Step 2: Sign up after choosing the pricing plan that suits you the best.
Step 3: Sign up with the same iTunes credential on the child's iPhone.
Step 4: Make a child profile on your Phone to customize easily.
Step 4: Now log in to the SecureTeen control panel and start monitoring the child's activities.
Step 5: On your dashboard, choose the child profile that you want to customize.
Step 6: Now a tab will open. Click on "URL Settings" under the "Rule Tab".
Step 7: Enter the URL that you want to be blocked in the text field.
Step 8: Click "Block"
Now the sites you entered in that field will be blocked from your child's device. Not only this, you can monitor all your kid's activities, and block or allow apps on their iPhones by using SecureTeen.
As explained very well in this article by HuffPost, porn is all over the internet, you can't completely get rid of it. However, there are plenty of ways through which you can stop your child from seeing explicit content. But no matter what you do, if you don't talk about this to your child, they will never understand the meaning of these restrictions.
Parents need to have an informative conversation with their kids: Why porn exists? Is that real? Why isn't it good for you? And stuff like that. When tech tools are combined with valuable conversations that convey your values regarding love, relationships, and sexuality, the result is fruitful.
Kids often feel insecure when they think of their parents putting restrictions on them. For these issues to be resolved in a better manner, kids need to be educated about porn. Most parents don't talk about it because they think that it will make them look for it. But they are mistaken.
Kids will find their way to porn even if you don't talk to them. So, it is better to educate them and then put restrictions on them. This way they will feel that it is their decision too.
---