How to Block Adult Content with The Help of a Parental Control App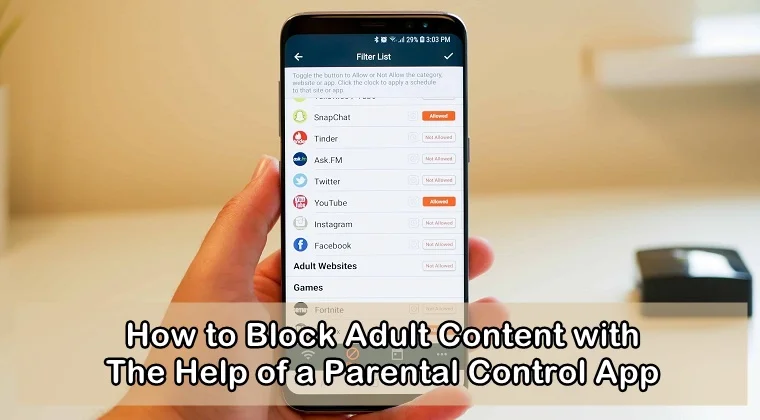 Several cases have been researched lately, where pornography has proved itself to be hazardous and dangerous in many ways. It has ruined people's relationships, destroyed their experiences, and even its addiction has been proven to have long-lasting negative effects. That is why the parents are worried about how to block adult content on their kids' devices.
Along with pornography, the level of violence being showed in the adult content is dangerous for kids' mental health. They learn the stuff that keeps them in danger for a long period. Their behaviors, habits, style, and even thoughts, everything is changed when they are exposed to this content. Kids are often seen to be all stressed out and depressed as well.
The effect of adult content material on your kid cannot be reverted. Most of the adult content is seen in the ads on almost every website. Once your kid goes a little down that road, they will come across a complete valley of such content, entirely open for them. So, how can parents save their kids from this? How can they help the kids have a better childhood?
How to Block Adult Content On Your Kids' Devices?
There are multiple ways to protect your kids. You can block such content from their devices to have them do the clean research. Some basic features and apps let you wipe out this content from their search results as well. Confused about how you can do this? Here are multiple ways for you to deal with this situation. Try them and you will see the change.
Google Safe Search
It is very easy to use this tool that helps you keep their Google search clean. It automatically filters out the adult content especially pornography from the search results. Now, no matter what they search for, no ad or website will show up on their screen promoting the adult content.
Steps to use it:
First, your kid's search engine should be Google. If it is not Google, set it as the default browser.
Now, go to google.com and go to settings. There, you will find SafeSearch in the category of search settings. Turn it on and then lock it.
Repeat these steps for all of the kids' devices and then restart the browser.
Your kid won't be able to access adult content now.
Screen Time on iPads and iPhones
With the right customized settings, this feature will let you limit their screen time as per your choice. This feature is built on the iOS devices and you can protect your child from the adult content exposure through this feature.
Steps to use it:
First, decide what you wish to do. You can restrict the screen time for your kids through this. Also, you can manage their phones remotely with Apple's Family Sharing feature.
On your kids' phone, go the settings and scroll down. You will see 'Screen Time' there. Tap on it.
Choose the 'Content and Privacy Restrictions' and then turn on the feature.
You can customize the settings, deciding what should be allowed and what should be restricted.
If you want to block porn, go the 'Content Restrictions' section and turn off the explicit media and web content also.
Your kid will not be able to access porn now.
Internet Service Providers
If you don't know it yet, ask your internet service provider about the offers they are proposing to block adult content for the kids. Every service provider is offering some deals for this purpose. They offer screen-time management, content filters, and other parental control services that will block porn exposure as well.
For instance, Xfinity is offering website blocking, device limits, parental control features, and a lot more through their customer app and portal. Verizon has started a program of Smart Family that offers free parental control for a month. Nearly every company is offering such services to do their part in the better upbringing of the children.
Parental Control App - SecureTeen
Using a third-party parental control app is a fine way of protecting your kids from this filthy content. Among the best parental control apps, SecureTeen offers you the services that will make your parenting very easy. You will know easily when your kid is in trouble or when you need to supervise them.
Now, not only you can control their exposure to adult content, you can monitor their online activities, know about their location, manage their screen time, and do a lot more through this app. This also lets you know when they are talking to the wrong people and how much they are sharing on the internet.
Steps to use it:
Download and install SecureTeen on both the child's and parent's phone.
Sign up after choosing the most suitable pricing plan.
Now, make the child's customized profile on the parent's phone.
Monitor and customize then child's phone after logging in to the panel.
You will choose the child's phone to be monitored on the dashboard.
If you wish to restrict the adult websites on their devices, go the 'URL Settings' under the 'Rule Tab'.
Enter all the URLs you wish to filter out.
Tap 'Block'.
And there, now your kid won't be able to access adult content.
You can practice these ways of blocking the adult content from the kids' devices and save your kid from the internet filth. You can also block adult content on YouTube App. Adult content is present everywhere, however, you can use only one tool to keep in check what sort of content your child is viewing online. SecureTeen provides all the solutions under the same roof. Now you can monitor them for good and be their mentor. This is all that your kids need.
Along with using this, don't forget to keep your children on the same page as you. They won't trust you if you monitor them secretly. They might become rebellious because they don't like to be treated that way. To overcome this hurdle, talk to them. Communication is the key to having the best relationship with your kids. Put the restrictions but let them confide in you first so that they can also understand.
---